Born on the 16 March 1989 in Stanmore, London but growing up in Compton, Berkshire he began his footballing career with AFC Newbury and it is reported that he scored over 100 goals in his one and only season before being snapped up by Swindon, he was only there for six months before he was again snapped up, this time by Southampton at 14 years old. He became their youngest every player to play in both the reserve team (at 15 years and 175 days old) and the senior team (at 16 years and 143 days old). He scored 4 goals in 21 games that season for Southampton and his exciting pace, directness and ability to commit players saw him quickly rise in fame and grab the attention of the elite English teams. The England International then joined Arsenal from the long list of talented players that began at St-Mary's youth academy for a fee between £8 million and £12 million (which include teammates Alex Oxlade-Chamberlain and Calum Chambers, also the current worlds most expensive player ever Gareth Bale) on the 20th of January 2006, he has now been at Arsenal for 9 years and he has matured from a young raw winger into a clinical centre forward.
(From left to right, Alex Oxlade-Chamberlain, Theo Walcott and Calum Chambers all now Arsenal teammates who began in the Southampton Academy)
(Walcott with Arsene Wenger upon signing for Arsenal) He was selected for Sven Goran Eriksson's 2006 world cup squad despite not having played a minute in the premier league, which was a huge shock and in my opinion a waste as he was not used at all (as expected for a player with no premier league game time) and could have better spent the time getting used to training with Arsenal and settling in to begin his first ever Premier league season.
(Walcott pictured at the 2006 world cup in which he was prematurely called up and was sparingly used in England's unsuccessful campaign) His first ever goal for Arsenal put him straight into the Hearts of the fans as he scored against Chelsea in the 2007 league cup final, which unfortunately we went on to lose 2-1 but it was the start of a successful career which has been frustratingly hampered by injury.  The word evolution fits perfectly as 9 years later he scored the opening goal in a major final, again inspiring us to a 4-0 win over Aston Villa to demonstrate the correlation between his and the clubs progress. He has often been linked with a transfer away from Arsenal due to a mixture of injuries and being difficult in contract negotiations.  This upcoming summer transfer window has been no different, he once again has been linked with Liverpool in two fashions, the first is a straight sale which unless they offered us an extortionate fee (it would take a fee of at least £50 million, now I am not stating he is worth that much but for the fact that a rival team would benefit we would require a huge sum) it would make no sense to sell him to a fellow top Premier league team and he would not benefit from being at Liverpool, we have finished above them in average across recent seasons and have won more trophies.
The second option being rumoured is a  player plus money deal for Raheem Sterling which in my opinion is a ludicrous statement, Sterling is 5 years younger but in my opinion it would be like rebuying Walcott from 5 years ago, a pacy young English winger who can play striker and on his day can tear apart the top teams in the league but does not produce a high standard of football on a consistent basis and his technique is currently lacking for that of an elite player. Walcott maintains his status at the Emirates as a player who on his day can be the best player on the team, scoring hattricks, showing a mixture of sublime skill, pace and balance to tear any of the worlds greatest teams apart, he has drawn many comparisons to Thierry Henry and this is especially relevant having taken on the Legendary No14 shirt from the French maestro but when off form has been said that he should leave football and become a sprinter as he lacks a footballing brain and has only made a career at the elite level of football due to the electrifying speed he possesses.
(Walcott blasting the ball into the top corner from a very tight angle, leaving Boaz Myhill with no chance to open the Scoring against West Brom at the Emirates on the 23rd of May 2015)
(Graph of Walcott's shots vs West brom on the 23rd May 2015, including his Hattrick) He has add his injury problems for both club and country which have hindered his development and has been a big contributor to the fact that he has been inconsistent throughout the majority of his career, whenever he would begin to build up form and begin to show how devastating he can be towards any defence, he would suffer an injury which would mean he would have to take time out and focus on rehabilitation, any player needs consistent playing time in order to grow and he was not getting this, now he is hitting his peak age and has the faith of Arsene Wenger and the fans to score goals regularly as a centre forward combined with trophies he can push on and confirm his place as a legend amongst the Emirates Faithful.
(Walcott was seriously injured and was stretchered off in Arsenal's 2-0 win over Spurs in the Third round he is pictured reminding the Tottenham fans of the score and on the right the stages of his comeback from that injury which kept him out for a year)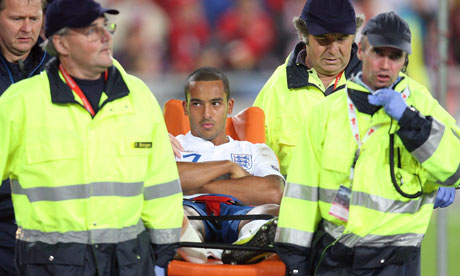 (Walcott again pictured on a stretcher, on one of the many times he was injured while away on England duty) His latest contribution has in my opinion, settled all doubt that he should remain at the club and we should once again do all we can to get him to sign a new deal, by scoring the first goal in the FA cup final on Saturday 30th May 2015 calmly volleying in the ball with the side of his weaker left foot, showing a level of composure that he has always previously been accused of lacking on a consistent basis, if he stays he will continue to be an important part of our attacking options. One of the main points he required when he signed his previous contract was that he was given the chance to play in his preferred position up front regularly and he has now shown the faith that has been placed in him by Arsene Wenger to become a top quality centre forward who is adored by Arsenal fans and now we have begun to win trophies again with him playing an important part in these triumphs, he will stay and the correlation in the increase rate of success will continue on a steady climb for both club and individual.
Images credit: http://www.islingtongazette.co.uk/polopoly_fs/1.777597.1295433392!/image/3373778348.jpg_gen/derivatives/landscape_630/3373778348.jpg  http://news.bbcimg.co.uk/media/images/83201000/jpg/_83201310_theo_walcott4_ap.jpg  http://www.independent.co.uk/incoming/article7763418.ece/alternates/w620/Theo-Walcott.jpg  http://i.telegraph.co.uk/multimedia/archive/02925/Untitled-2_2925545b.jpg  http://the4thofficial.net/wp-content/uploads/2015/05/Walcott-Shots-Vs-West-Brom.jpg  http://static.guim.co.uk/sys-images/SPORT/Pix/pictures/2010/9/8/1283942001523/Theo-Walcott-006.jpg  http://a.espncdn.com/combiner/i/?img=/photo/2014/0922/fc_ox_ml_1296x729.jpg&w=738&site=
Thanks for reading and if you have any feedback on how I can improve please let me know, if you enjoy my content please follow this page, my personal blog page at https://wordpress.com/posts/tomcrossland.wordpress.com ,my twitter @1crost82 and feel free to share.
Credit all authors of images used in both article and as cover image :
Tom Crossland